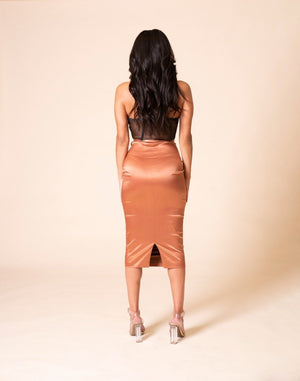 Sweet Temptation Midi Dress
Step out of your comfort zone with our two-toned, sheer and satin midi. This dress was created with luxe, stretch satin and a smooth black sheer. It is lined from the waist down with a stretch lining to give the dress a sleek finish. Boning was used around the boobs, at the waist, on the sides and at the back for a tighter fit to emphasize the curves. Although the fabric hugs your body, this piece has a back split that makes it comfortable to walk in. The zipper is located on the left side.
This dress fits really tight around the waist and has little to no stretch at the top/sheer area so please view our size to guide (located above add to cart) before choosing a size.
This dress can be worn with our nipple covers.
Model is 5'6", weighs 117 and wears a size small.